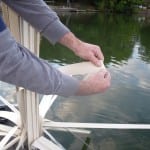 Fishiding artificial fish habitats are coming to a lake or pond near you. With fish attractors, more is usually better and that is good for the fish and the fisherman alike.
With continued growth and products in over 40 states, we need to clear the shelves of remaining inventory in order to expand. Most models are still available with no limit on quantities purchased.
The 25% off sale ends December 31st 2011 so order your habitat today!
More and more lake and pond owners and fisherman are utilizing the long term benefits of artificial fish structure like the products made by fishiding.com
Made from reclaimed PVC, all the various sizes and textures of habitat are made here in the USA. The textured surface allows exceptionally fast algae growth and the models with wide limbs create shade unlike any other self installing fish structure.
Each unit comes ready to sink in it's own black PVC, weighted "stump" of a base. The rigid yet flexible limbs, can be bent out on any/all angles and creased to retain their shape and position.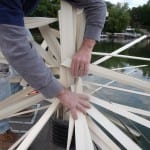 When you like the shape of the habitat unit, simply toss it in the lake and it sinks standing upright. The habitat will cover in algae and begin the fish holding potential.
Get a group of fishiding habitat today and begin to hold fish where you want them. Provide cover to grow your forage fish fat to feed those hungry predator fish.