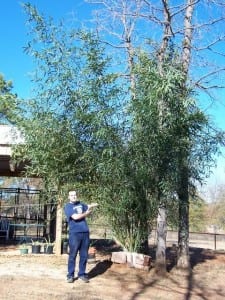 Volunteers and personnel will meet at the Enid Lake Field Office at 7:00 a.m.  This year's event is sponsored by Enid Lake and the Mississippi Department of Wildlife,
Fisheries and Parks (MDWFP).
Due to budget/manpower constraints, Enid Lake personnel joined with concerned
sportsmen, fishing clubs, and members of surrounding communities to form the
Enid Lake Habitat Volunteer Association. Through this partnership "Habitat
Day" was organized with the purpose of selecting areas around Enid Lake that
need habitat improvements.
Volunteers will place fish shelters in the lake in the Lovejoy, Robinson
Crossing and Silo Creek areas. All terrain vehicles are used to drag the
trees and anchor them with concrete blocks and other weights along creek beds
and other designated areas. This is accomplished by volunteers who donate
their time and equipment.
Restoration to the fish habitat is very important to the future fisheries at
Enid Lake.  Fish are attracted to these shelters because they provide cover,
areas to feed and places to spawn.  Restoring the habitat can also increase
the health and fish populations. According to studies performed by the MDWFP
the restoration program has shown enormous benefits to fish habitat in Enid
Lake.