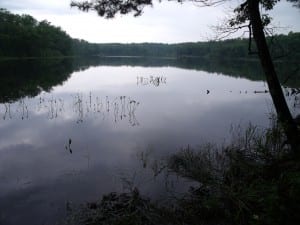 Looking back on 2011, the most striking factor affecting the outdoors community in Berks County had to be the lopsided weather we had. Who remembers such a year from the past?
Winter ice stretched almost into spring, then rain, rain rain. We were inundated in late August and September by a double-whammy – a hurricane and a tropical storm, followed by summer heat in autumn and a November deer season with days so warm you could hunt in camo t-shirts. For decades to come, weather-wise, 2011 may be the year to which we compare all others.
The saddest events were weather-related too. The flooding, Sept. 7, of Limestone Springs Trout Hatchery by Tropical Storm Lee washed thousands of trout into Upper Tulpehocken Creek which, in turn, were attacked by ill-behaving anglers who angered and frustrated landowners so much they have cut off future access to a once popular portion of the stream.
Flooding also caused an abbreviated pheasant hunting season in 2011. An estimated 35,000 pheasants died or were lost during the autumn floods at the state pheasant farms and the Pennsylvania Game Commission had to cancel late season pheasant stocking.
On the plus side, kids had much to celebrate in 2011. Fishing rodeos, youth hunts and mentored outings, the opening day of the trout fishing season and the annual Youth Field Day rank right up there as highlights.
Rick Heckman of Fleetwood was named 2011 Berks County Outdoor Sports Person of the Year for his volunteer leadership in the Berks Izaak Walton League and with the Federated Sportsman's Club of Berks County.
The outdoors community made notable efforts to help feed the hungry in Berks last year. From canned goods collections by students to campaigns for frozen meat by Hunters Sharing the Harvest, Mohnton Fish and Game and Berks County Hunters Fighting Hunger much needed food was gathered and donated to the Greater Berks Food Bank and the Reading Salvation Army.
Finally, two area conservation and habitat improvement projects were highlights in 2011. An extraordinary riparian project along Willow Creek, north of Route 73, required many organizations working together to strengthen and repair the path of the beautiful winding stream.
And likewise, just north of the Berks County line near Kempton, the Leaser Lake Heritage Foundation, working with private, public, state and national organizations have nearly completed rehabilitation of Leaser Lake, a popular Berks angler destination. The fish habitat improvements in the lake are among the most advanced in the state.
Last year at this time, anglers were fishing through the ice on area lakes during what was one of the longest ice fishing seasons in many years. Today, there is no sign of ice, an oddity which will likely make 2012's outdoor highlight list.
Contact Roger Mallon: 610-371-5060 or sports@readingeagle.com.