We have a new supplier of material to keep up with demand at fishiding artificial fish habitat products world headquarters in Woodstock Illinois. 30 yard containers of clean sorted siding are delivered to our facility two at a time, twice a week. That's an average of 10,000 pounds of material per week.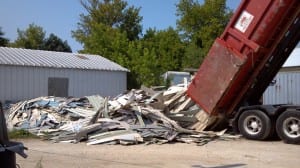 Fellow construction and demolition contractor Ken Hoving, who has been supplying us with material for about a year and a half, helped set up this match made for the fish. These guys process material with a well greased flow to sort and re-use up to 80% of the material they bring in. In the past, as little as six months ago, all this material was destined for the landfill. Needless to say they are more than happy to see it going to such a could use to provide habitat for fish as well as removing excessive nutrients and converting them into fish food.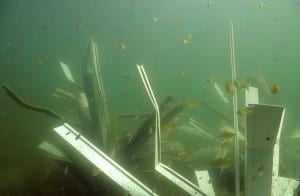 Bio film, Periphyton and algae grow on the inert substrate and begin the food chain. This natural occurring process mimics nature and cleanses the water of contaminants. This growth provides the "mothers milk" of nourishment for fish up to about one year old. Lasting underwater forever, this process only improves with more time.
The reusable experts
Started in October 2002 with just one truck and 30 boxes, Wendy Gold and her brother Robert Lenzini have modeled the foundations of their family's generational business, Lenzini Excavating, initiating 37 years ago, into today's MBL Recycling, established as an operation that specializes in the recycling of construction waste and demolition debris. Slowly but surely, the company has modestly added to its fleet, which now counts to eight trucks and close to 400 boxes.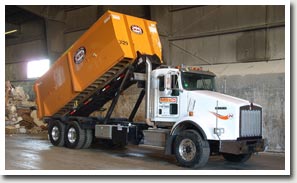 Over time, the company has grown from its initial days of hand sorting to separate the waste material to a state-of-the-art facility that brings efficiency to the sorting process and new levels to both volume and productivity. The facility current stands at 41,000 square feet.
Based in Palatine, Ill., where the company's new facility was developed in 2005, MBL Recycling offers full roll-off container services to its customer base, offering anywhere from 10 to 30 yard containers. The recycled material sorted, processed, source separated and is then sold back to the market. For example, recycled shingles are turned to asphalt in order to construct city roads. In 2007, MBL Recycling added concrete washout containers to its extensive line of services, further improving its position in the marketplace, tackling the market with a different style box, while the boxes also better comply with growing environmental standards.
Programs and services
The addition of 11,000 square feet to its new material recovery facility allows plenty of space for future growth.
And as its volume has continued to grow, MBL Recycling has seen an increase in incoming streams from diversifying construction projects, further adding to both the demand and specification of the waste separation. Because of such a high volume with its customers, MBL Recycling was able to hold its percentage in the market as the company successfully navigated the impact of the global economic downturn, which was specifically damaging to the American housing economy.
Business development
"Construction is really down here. Housing has come to a halt. We were pretty fortunate though because we never really focused much on housing," said Robert. "We did a lot more commercial and it has slowed down…but nowhere near the housing.
"Will next year be any better? It is still too early to tell. We see it from an excavating side because we can tell when they bring in bids and how much work is there for the spring, and there isn't much," added Robert, illustrating that the excavating business allows for a unique secondary insight into the future.
"We pinch ourselves everyday that we are here and still going. We are riding the storm and doing everything status quo until everything bounces back. We're always thinking of new things, but we have a couple hurdles here in Illinois that we are trying to work on now too (like getting into the drywall recycling market)," said Wendy.
"We were able to pick up some of the slack from some of the other guys that were in the housing market. The shingles this year also brought our tonnages way up," said Robert. "Before we used to have to ship [the shingles] to Wisconsin and they used them in asphalt mix. Just in the last year, Illinois recognized this and got a standard for it."
"We do a lot of work with Power Construction (based in Schaumburg, Ill.), a high profile contractor. We do a lot of hospital additions. We just finished the Northwest Community Hospital nearby and that was a huge project. Astellas Pharma is another Power Construction job. It's a three-year project that just started this year," said Wendy.
But right now our only out is that we recycle our own stuff, so that is our little niche." Associated with the U.S. Green Building Council, MBL Recycling provides all LEED documentation for its customers, generating environmental sustainability reports on a monthly basis.
The transition to 'go green' is something that is becoming a "really big thing with the general contractors…they love to recycle, especially with some of the locations around us," said Wendy. "Hooray for Chicago because they mandate 50 per cent recycling of construction. It is wonderful that they recognize that."
As such, in 2009, the Illinois Recycling Association recognized MBL Recycling as the Recycler of the Year.
Quality customer service
MBL Recycling prides itself on providing the best possible service to its customer base.
"Service is a big thing nowadays. People call and they want their stuff. It is not all about the pricing because at least when people call us they know we are going to be there," said Robert.
"People are so thankful. You would be surprised at the phone calls—people go out of the way to call here and say something nice about one of our drivers, or for us being there in a pinch. Everyone gets the feedback and gets to feel good about things," said Wendy. "We treat all of our customers the same—like gold."
WWW.MBLRECYCLING.COM
http://www.youtube.com/watch?v=rv3M4zUsU5U&feature=player_embedded
It's Easy Being Green!
MBL is committed to environmental best practices and sustainability. MBL diverts millions of pounds that would normally go to landfill in your C&D container. MBL is taking C&D recycling to the next level. Diverting waste from landfills, promoting reuse and recycling in our community.What is your Current C&D waste management plan?
Are your crews taking the time to separate each and every item and put them in separate containers for disposal?
Do you have multiple containers to handle the variety of materials to be disposed?
Or are you already putting jobsite C&D debris mixed into one container?
MBL Recycling is ready to handle your C&D waste. Mix all C&D waste into one container. Do not incur the extra time and cost of separating materials yourself. No need for extra job crew training: just explain you will be recycling.
Just direct ALL your C&D materials to MBL!
MBL will take your C&D container and separate the recyclable materials for you. On average 75% of every C&D container is recycled. Allow us to recycle your construction and demolition debris, diverting tons of material from landfills.
An alliance of professional environmentalists working to promote greener solutions. Find us atwww.thegreenteamchicago.com.