What kind of habitat helps the fish grow large and the water stay clear? Can you actually dictate where to cast your lure to find a bass lurking in the shaded cover like a defensemen reads a quarterback?
If you spend the time and effort to plan the design of your lake or pond from start to finish, you can achieve these goals and much more. Chris Kelsay, veteran linebacker/defensive end of the Buffalo Bills has a passion for more than just football. Chris not only loves to tackle running backs and wide receivers, but big bass are also on the hit list. Growing up in Nebraska, Chris has loved the outdoors all his life. When he's not playing ball, he's often talking fishing and hunting with his family and friends, planning his next adventure with his bow, firearms or fishing rods.  Chris plays off the field with as much intensity as he does at work, stalking, sneaking and outsmarting his opponents with hard work and dedication.
Another NFL great that is no stranger to the outdoors is Aaron Graham, former Center for the Arizona Cardinals, Oakland Raiders and finishing up his career with the Tennessee Titans. These two guys have quite a bit more in common than playing ball in the NFL. Not only are they neighbors near Gretna Nebraska, but they both love to fish and hunt, having their own private lakes that they enjoy with their families and friends. Both these guys played college ball for the Nebraska Cornhuskers, as well as Chris' brother Chad. Retiring from the NFL, Aaron now owns and operates his own company called "Premier Outdoor properties", which specializes in large tract farm, ranch and recreational real estate throughout Nebraska, Kansas, Iowa and Missouri. Participating with Cabela's Trophy Properties, his firm can help you find your dream  hunting and fishing, farm and ranch, lake or river frontage, and large tract acreages, to meet any needs you may have.
Aaron has had his lake stocked with an exceptional strain of bass, with catches to date over eight pounds by his son Cooper. With the lake being about seven years old, Aaron has a jump start on Chris with some experience in habitat, stocking and water quality. We met Aaron over a year ago, providing him with some of our artificial fish habitat products for his lake. Follow this link to read about aaron's habitat project. The success he has had with our products, encouraged him to put Chris in touch with the team at Fishiding.com to discuss a plan for his first of two lakes, as it was getting ready to be filled to full pool. With a large well, levelor system, aeration and a stocking plan in place, we came up with a plan and design to meet Chris' desire to create a personal, one of a kind fishery. The first  lake Chris has on his property, at just over six acres, needs  plenty of cover for the fish to spawn, hide and hunt within. A well known and respected fisheries biologist Bob Lusk of Pondboss.com, recommends at least 20% of the surface area of a lake or pond be provided in habitat.
With plans to include aquatic plants, wood and rock, we came up with an array of artificial habitat models to make up about 25% of the needed habitat for Chris' first lake. We have always felt that a variety of natural and artificial habitat provides the diversity, all types of fish species need to utilize throughout the year. Like most things in life, everything in moderation seems to achieve the maximum efficiency and ultimate benefits for a fishery.
The plan we came up with provided an array of structure textures, sizes and shapes to best provide cover for fish spawning and growing habitats. A total of 350 individual habitat units were hand selected to best achieve Chris' goals to create a trophy bass fishery. A key element to any habitat plan is to create a line of structure from shallow water spawning areas out to mid depth and ultimately deep water cover. This allows young fry to hide in fine, dense cover immediately after hatching, in the shallow water they are spawned in. As these young of the year fry develop and explore out to mid depth ranges, they need to have cover to utilize as they progress deeper. If this cover is not available, they get eaten before reaching preferred size by predator fish. It is imperative that these small fish are able to hide and grow larger to the 3″-5″ size before becoming forage for the game fish. A bass for instance, needs to eat 10 pounds of forage to put on just one pound in weight. If that bass eats the fry before they get large enough, he will eat them all up just to satisfy his hunger and desire to put on weight.
We put our plan together to deliver the structure and help Chris with the installation. Although artificial habitat only needs to be installed once, this was a large amount of structure to ship and install at one time. It was decided we would drive the almost 7200 pounds of habitat out in our own truck and trailer from our facility in northern Illinois. The 475 mile trip had us arriving by lunchtime on a Friday, with the hopes of finishing the installation late Saturday evening, for the return trip on Sunday.
Three of us set out at 4:00 a.m. Friday to achieve our goal. Our son Graham, an electronic media/photography major at Moody Bible Institute in Chicago, came to capture the project in high definition pictures and video and help with the installation process. Also along was our nephew Josh Fick, a starting player for the North Central college football team, over excited to meet and work with the NFL players. Meeting us there was Josh Milczski, a Nebraska native, writer for recycled fish.org, a pond boss moderator and Nebraska Fish and Game board member to lend a hand and share his knowledge. Also on hand to help was Chris and Chad Kelsay, as well as Aaron and Cooper Graham.
We unloaded all 350 units and spotted them around the lake per plan Friday afternoon and then when out for a well desrved Nebraska steak dinner to re-fuel for the big push on Saturday.
The weather was un-seasonably hot, with temps. in the low 90's and full sun. None of us expected to be getting sun burn in march, let alone starting to find Morel mushrooms already. The turkey were gobbling on the roost as we set up for a long day of work, unfolding each unit and stocking them on the bank near their final resting place. Geese and ducks of all varieties, came in and out of the lake all day, giving us a show of the abundant wildlife in the area. There was about 2 feet of water existing in the lake from runoff and ground water level, an ideal situation to put our plan into motion.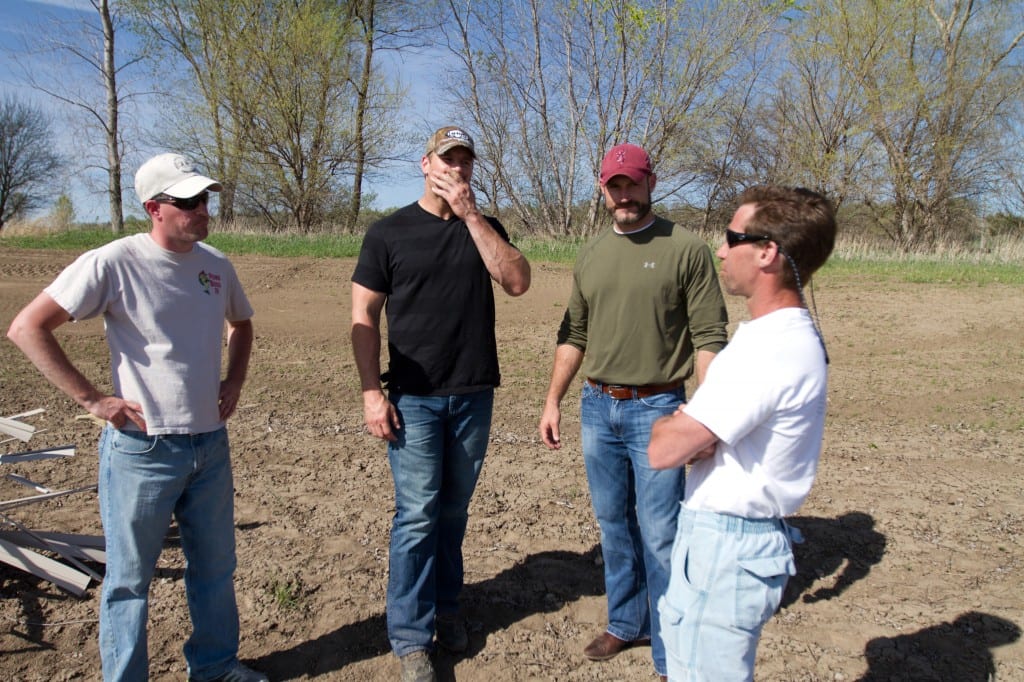 Three Nebraska Boys and one flatlander plan the attack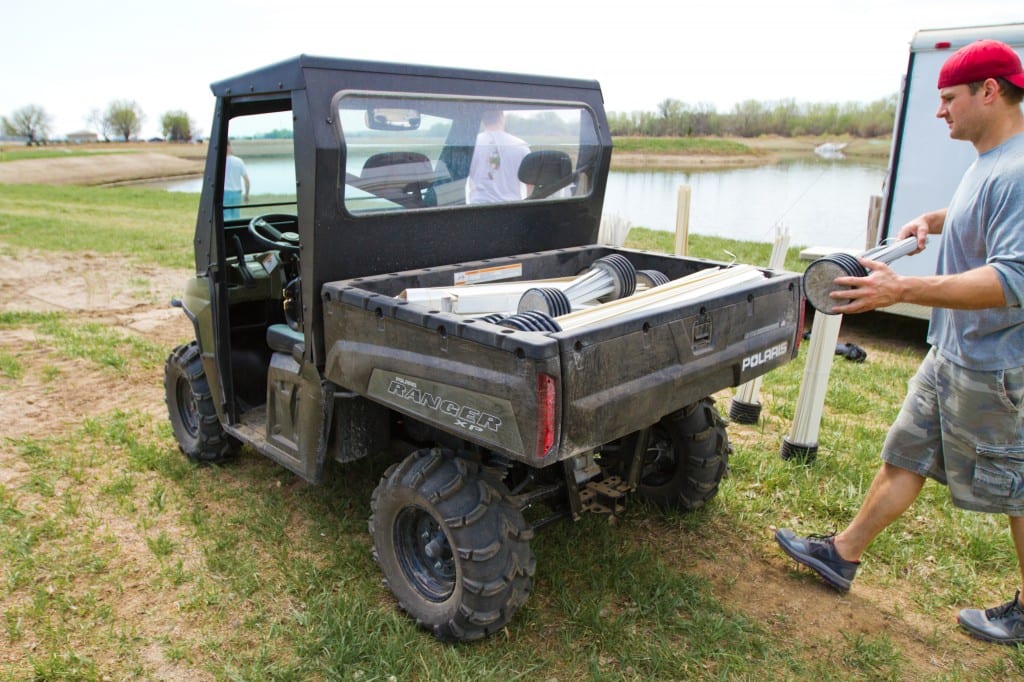 The "Kelsay express" saved lots of time
One huge advantage of
Fishiding artificial fish habitat
is the ability to grow bio film or periphyton. This "super food" is the best possible fish food available, occurring naturally. It sticks to the inert substrates or PVC limbs, and removes over abundant nutrients brought in from run off, like phosphorus. These nutrients brought in from farming practices, cause excessive weed and algae growth, choking many lakes and ponds. The fish in turn, eat this film and grow to maximum potential. Unlike natural materials, the PVC does not decompose, thus removing needed dissolved oxygen as it rots away. This process allows the water to become clear and feeds your fish naturally, the way nature intended. Inert substrates are used in aquaculture and fish "brush parks" to speed up the growth rates of desired species for market. A leader in this technology is a company called
Floating Islands international
, based in Montana. Their islands consisting of woven recycled plastics, are being used all over the world to help not only lakes and ponds, but water treatment plants and purification as well.
75
Cradles
were placed in shallow water in the pre- designed flat for spawning habitat. These units will help the fry survive the important first months of life. When opened, a cluster of hundreds of strands of PVC create a safe haven for fry and each unit consists of over 22 square feet of surface area to grow bio film and algae to feed them. After they reach the size of about 2″, they venture out a little deeper into the 100
Safehouse models
, spread throughout the lake. This mid depth structure adds over 44 square feet each of wide limbed surface area. The limbs in the Safehouse range from 1-1/2″ up to 4″ in width. Each unit stands a minimum of 42″ tall and opens to over six feet in diameter.
The Fishiding fish habitat products are all made from reclaimed PVC vinyl siding that was destined to be put in landfills. Over 50% of the material  acquired has never been used on buildings and will last for many generations to come. This safe, inert substrate, works perfectly for underwater applications in fish habitat. Our main supplier of  discarded siding comes from  K. Hoving companies. This state of the art waste removal operation currently recycles an astounding 75% of the trash they collect. Re-use is the term they use to explain their company goals. See this story about their firm and the great things they are doing to help our environment. Add the cover and your fish will prosper, Go-Green and save the environment all at the same time.
All fishiding units come complete, ready to sink with no assembly or additional parts/tools needed. Simply open the box, bend to any desired shape and toss in the lake. Each unit sinks upright with the included "stump like" base. There is no incorrect or wrong shape, as diverse as Mother Nature. Artificial habitat products are being used all around the country, as biologists learn more about the many advantages they offer. Years of use from these structures allow anglers and pond/lake owners a snag free habitat for fish to utilize. Saving the environment, these fish attractors help conserve energy with no manufacturing process involved.
Cleaned, cut into various shapes, widths and sizes then cemented into just about any type of safe container, fishing groups are getting involved in creating new habitats lost from degradation and development. All of the fishiding models are available shipped loose as well as in a completed form. Customers can save money by purchasing loose pieces of the PVC in all varities and create their own custom designs by using their own container and cement. A special mixture of cement is also available to ensure a tight, fool proof bond to the vinyl. The pieces and models come in an array of colors, just like the colors available when siding your new home. After the algae and bio film begins to grow, they all take on a greenish/brown appearance.
Groups like the B.A.S.S. Federation Nation have begun to incorporate Fishiding habitat products into their ongoing conservation efforts. Projects in West Virginia were recently completed with great success. Plans to work in New Mexico, South Dakota,Virginia and Texas are being put together currently with the conservation directors in those states. The B.A.S.S. Federation Nation  leads the industry by example in conservation work with groups in all states and Canada promoting conservation and water quality issues world wide.
Lake and pond owners enjoy the ease of installation, with no need to ever replace. The limbs all have any holes or notches removed to make each unit  snag resistant,unlike brush and Christmas trees. By providing shallow habitat for fry and forage fish, mosquitos can be almost eliminated in the area, as they feed on these pesty critters. Shallow habitat is the key to growing your own forage base, thus eliminating the need to constantly restock minnows to feed your game fish.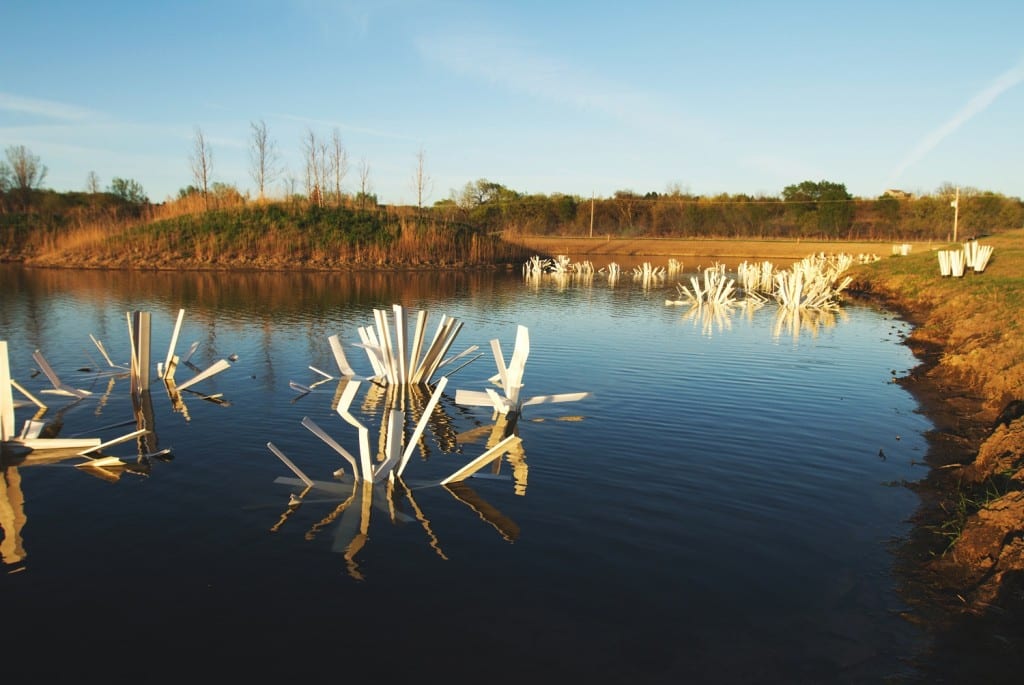 100 Keeper models were incorporated into the plan for deep water structure. These large units each boast over 62 square feet of surface area  and allow predator fish to hunt and hide around. When opened and bent to shape, they cover a seven foot diameter and are best installed with about a foot of space in between. This allows fish to navigate through them, feeding and resting in the shade they produce. Bass prefer the dense cover and shade that these fish attractors provide.
Also part of the plan was to install 25 Stakeout structures, which are  artificial stake beds, crappie and bluegill fisherman use a great deal in the south. These units stand 48″ tall and have an open grouping of individual "sticks" that the panfish prefer. Another 50 smaller prototype versions of these were installed in shallow areas for young of the year fish to navigate through as well.
With all the help and planning, we were able to meet our goal and finish installing all 350 Fishiding habitat units by sundown on Saturday. Chris welcomed us into his beautiful home and surrounding landscape. Although we had no time to hunt or fish while we were there, plans are being made to come back to install our habitat products in his second, five acre lake. With common goals of preserving our natural surroundings and creating a fantastic fishery, we are planning to spend some time together in the great outdoors with bows, guns and fishing rods in hand. New friendships have been made, stories of the hunt continue to be shared and the love of the great outdoors continue to be the catalyst for a common bond between men from all walks of life.

Before and After habitat
"My experience with David Ewald and fishiding.com was amazing to say the least. His passion for lakes and fish habitat was very evident from the beginning.  David and his crew are able to help turn your expectations and dreams into reality.  We are confident that between the artificial structures from fishiding.com, and the natural habitat we have in place, we will be able to grow and harvest many great fish for a very long time.  I highly recommend fishiding.com for your habitat needs."  Chris Kelsay,owner
Installation and bending video:
For questions about Fishiding products or to request a quote and design for your lake or pond