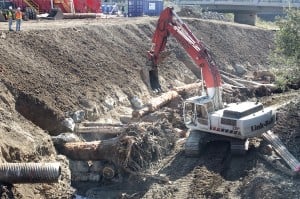 Like ostriches with their heads in the sand, tall redwood trees have burrowed into the creek's north bank, leaving their bushy root balls sticking out in the stream bed.
Never have Napa redwood trees behaved so strangely
NAPA, CA – Work on the Napa Creek Flood Project continues as crews use trees and boulders as erosion control measures behind the Napa Valley Opera House. J.L. Sousa/Register
Something peculiar has appeared in the reconstructed tip of Napa Creek as it prepares to dump into the Napa River at First Street.
Dave Cook, a project manager with the Army Corps of Engineers, is able to make sense of these mostly buried redwood trunks.
What you're looking at, Cook said, is LWDs. That's corps talk for "large woody debris."
State resource agencies, such as Fish and Game and the Regional Water Board, strongly recommended these inserted redwoods to curb erosion, Cook said.
These timbers are taking the place of the traditional bank stabilizing material: big rocks, he said. Rocks aren't fish-friendly, he said.
The reconstruction of Napa Creek is creating a wider channel for flood waters. In places, dual underground culverts will keep flood flows from topping the bank.
To accomplish this work, the federal contractor has taken out broad swaths of riparian vegetation along the north bank, both east and west of Main Street.
When this season's work is finished this fall, the bank will be heavily replanted with native specimens, but the creek will still be exposed to sunlight, which isn't good for fish, Cook said.
That's where the redwood root balls come in. They will create a more protected environment for water life as the construction zone heals naturally, he said.
Many of the trees being used to stabilize the bank and provide fish habitat were harvested from the creek edge along Arroyo Drive where bank widening is scheduled to occur next summer, Cook said.
Some timbers will be lashed to the base of the channel as it rounds the bend east of Main Street, providing an impediment that will slow down creek flows, said Burt Brown, another corps manager.
"We worked long and hard with the resource agencies to design bank protection," Brown said.
To make sure these natural erosion defenses would work, the corps created a 60-foot-long model of the southern end of Napa Creek in a warehouse in Seattle, Cook said.
This model was used to test various creek flows and the effects of high tides that fill the mouth of the creek, Cook said.
The current work in the creek channel is scheduled to be over by Oct. 15. The contractor, Proven Management Inc., will be working a six-day work schedule to meet this deadline, he said.
Napa Creek work is part of the larger Napa River flood protection project, a joint effort between Napa County and the federal government.
Construction is being funded by the federal government. The $15 million Napa Creek contract was paid for using federal economic stimulus dollars.