Wild Turkey Hunting in Wisconsin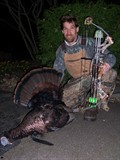 The wild turkey is truly one of Wisconsin's wildlife management success stories. A key role in the success of the wild turkey management program can be attributed to hunters through their purchase of the Wild Turkey Stamp which provides vital financial support in providing for future opportunities for turkey management and hunting in Wisconsin. Since wild turkeys were first successfully reintroduced into Wisconsin in 1976, population levels continue to increase and expand statewide. Successful restoration of the wild turkey resulted from tremendous hunter and landowner support, good survival, and high quality habitat.
Turkey stamp funds have been providing opportunities for turkey management in Wisconsin since 1995. Sale of the turkey stamp currently brings in over $750,000 annually for developing, managing, conserving, restoring, and maintaining the wild turkey population within the state.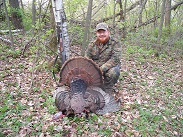 Plan to attend one of the FREE Turkey Hunter Education Clinics listed below to either brush-up on your skills or to learn new techniques to help you hunt the elusive wild turkey. Typically lasting 2.5-3 hours, the clinics are designed to cover turkey biology and behavior, hunting methods, regulations, safety precautions, and landowner/hunter ethics. You can also look forward to information on in-depth hunting techniques, scoring trophy birds, and a few ideas on preparing your trophy once you get it home. Advance registration is not required.
The Wisconsin DNR is on the lookout for new instructors – if you are interested in teaching a Turkey Hunter Education Clinic in the future, please call (608) 264-8963 or email to learn more.
How do I get a spring or fall turkey permit?
To receive a turkey permit you must apply by application. Applications cost $3 and are available at any DNR Service Center, Licensing Agent, or through our Online Service Center. The application deadline for the spring hunt is December 10th. The deadline for the fall hunt is August 1st. Successful applicants will be notified via mail. After the lottery drawing occurs, remaining turkey permits will be sold over-the-counter on a first-come, first-served basis.
What do I need to participate in the turkey hunt?
To hunt wild turkey in Wisconsin, you need a valid permit (carcass tag), turkey license, and a Turkey Stamp. Permits are distributed using a preference drawing. If you receive notification via mail that you were successful in receiving a turkey permit you will need to purchase a spring/or fall turkey license and a wild turkey stamp (except Conservation Patrons and Senior Citizen Recreation Card holders). Because the ALIS system prints your turkey stamp "privilege" on your license, the actual stamp is no longer required. The actual stamp is available at DNR Service Centers for collection purposes. A carcass tag will print out at the time of the license and stamp purchase.
How do I know if I successfully drew a permit in the spring or fall turkey permit drawing?
The preference drawings for spring and fall turkey permits take place in late January and late August, respectively. Following the preference drawing, postcard notifications are sent out to permit winners and are typically received a couple weeks after the drawing is conducted. Customers who do not receive a postcard or simply would like to know their permit status sooner can check their permit application status online by using the Online Licensing Centeror by contacting a DNR Service Center, or the DNR Call Center at 1-888-WDNRINFo (1-888-936-7463).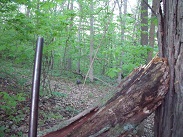 Are the Spring zones the same as the Fall hunting zones?
Yes, however, some zones open during the Spring season are not open during the Fall season. (Example: State Parks).
What is landowner preference?
Residents that own 50 or more contiguous acres within an open wild turkey management zone are eligible for first preference in that zone. If more than one individual is the landowner of a single parcel, only one individual may be considered a qualified landowner for the turkey drawing. A qualified landowner may assign his or her first preference status to an immediate family member, to a resident farm operator, to a family member of the operator, or to a minor for that particular zone. After this assignment, the landowner who assigned his or her eligibility may not apply for a turkey permit using landowner preference.
What state parks are open to Spring turkey hunting?
Governor Dodge (1A), Devil's Lake (1B), Wyalusing (1C), Wildcat Mountain (1D), Mirror Lake (1E), Buckhorn (1F), Newport (2A), Interstate (4A), and Willow River (4B).
What areas are disabled Spring turkey hunting only?
Natural Bridge (1G), Nelson Dewey (1H), Belmont Mound (1J), New Glarus Woods (1K), Rocky Arbor (1L), and Loew Lake Unit-Kettle Moraine State Forest (2B).
What is the bag limit?
For the spring season it is one bearded or male turkey per tag issued. For the fall season it is one turkey of any age or sex per tag issued.
Do I need a license for assisting other hunters?
No license is required to call turkeys if you do not possess a firearm or bow. A guide license is required if you are charging a fee for your assistance.
Can I shoot a turkey for another hunter?
No.
Can I hunt turkey with the aid of dogs or bait?
Please contact Wildlife Services (Department of Agriculture) for information about abatement techniques:
Bait may not be used to hunt wild turkey.
Effective for the Fall 2010 Turkey hunting season: hunters with a valid turkey permit, stamp, and license may use dogs to hunt wild turkey throughout the state of Wisconsin
How do I register my turkey?
Bring the tagged turkey to any designated turkey registration station no later than 5 PM the day after it is harvested.